Introducing,
CAROLYN HUTSEN,
FEW's Extraordinary Woman of the Month!
You will love Carolyn — she is absolutely INSPIRING! She is a woman I want to be around. Carolyn has been a beacon of light and love in my life since 2010 when we met at a candle party. She is a secure woman who pours into others with a great mind for business and that is why, Carolyn is also a Member of the FEW Board of Advisors. I keep her in my world because she runs after her destiny, loves the Lord and she builds people up. You'll see… here is Carolyn!
Carolyn with her family
 ====================================================================

Kim: Tell me about your occupation and family. 
I am Senior Grassroots Manager at NFIB (National Federation of Independent Business) and Owner of The Hutsen Group, LLC, Leadership Development and Coaching.
As owner of The Hutsen Group, I am passionate about empowering individuals and teams to embrace their strengths and reach for the stars in the area of personal growth and leadership development. After I first read John Maxwell material 15 years ago, I knew immediately that his philosophy aligned with my beliefs and convictions. When I learned about the John Maxwell Team opportunity, it was a natural progression to join.
I was born and raised in Indianapolis, Indiana and attended Indiana University. I now reside in Wisconsin with my husband, Randy and two grown sons
Courtney – 35 and Brandon – 30 who recently married my wonderful Daughter-in-Love, Val.
We enjoy Big Ten Basketball, the Indianapolis Colts, the Green Bay Packers, and the Milwaukee Brewers. Bullet Remington, a chocolate Labrador retriever, adopted us on Mother's Day 2014 and enthusiastically leads us on frequent long walks in the park. My free time is invested in serving as a part-time chaplain at a local senior care facility. I support and encourage each resident as they journey through the final season of life.
Carolyn with her dog, Bullet Remington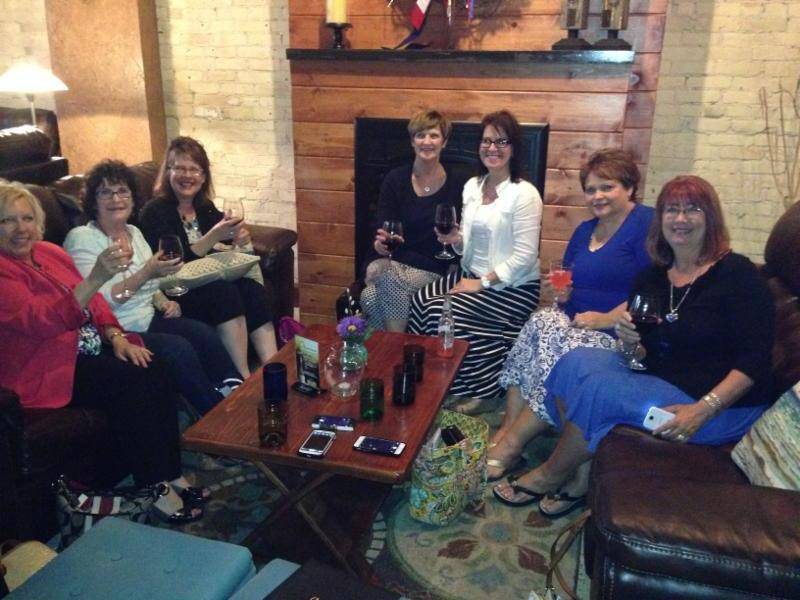 Celebrating the completion of a 6-week Mastermind on The 21 Irrefutable Laws of Leadership with dynamic women leaders
I think Bullet has Carolyn's heart and I can see why!
Kim: Who are 1 or 2 extraordinary people that have inspired you most?
My mother, who is in Heaven, is my inspiration in many areas, the two most impactful, ways being how she modeled and lived out her faith and how she so LOVED being a mother! Her mother passed away when she was only 9 years old. Even though a mother figure was absent in her life, motherhood and family were her passions and she excelled at both.   
 
Kim:
What are your most extraordinary accomplishments?

Although I've had wonderful and successful career opportunities and experiences, my greatest accomplishments and fulfillment are my family. I've been married for 37 years to the love of my life, Randy, and we have 2 successful and wonderful sons who continue to bring much joy and pride into our lives.  My family has taught me the power of unconditional love. It's almost more than I can comprehend, that as much as I love them, God loves them even more. That kind of love is difficult to understand at times, yet, being a parent, gives me a glimpse of God's love for me.
A recent accomplishment that has impacted my personal and professional development has been becoming a Certified John Maxwell Coach, Speaker and Trainer. The certification process and ongoing training experience have given me new PURPOSE in my life, by helping others DISCOVER THEIRS! 
Kim: In your own words, what do you think it is that makes a woman extraordinary?
From a factual and spiritual perspective, the fact that I am a child of the Most High God tells me everything I need to know about being extraordinary. Psalm 139:14 states "I will give thanks to You for I am fearfully and wonderfully made; wonderful are your works, and my soul knows it very well." In other words, God made me in His image and I am His wonderful creation. We are created in His image, perfection in his eyes. My desire is for women everywhere to understand and embrace the power of God's love for them. 
On a practical and emotional level, I see extraordinary women every day. They are mothers, wives, sisters, friends, employees, pastors, teachers, entrepreneurs, and leaders just to name a few! What makes a woman truly extraordinary is how she lives her life, nourishes her relationships, uses her God-given gifts, strengths, and character, to live out her purpose and fulfill her Destiny. [Well said, Carolyn!!]
Kim: What kind of impact do you strive to have on other women and how do you achieve it?
I am passionate about helping women FIND and DEFINE their purpose. Women juggle so many things in life, today and often define themselves by what they do, not who they truly are as an individual.  They are so busy "DOING" that they don't have time to "BE." We are human beings, not human doings! God created us for a unique purpose and my goal is to help women understand how special and loved they are by the One who designed them. I can speak to this because of my own journey, my journey to discover my purpose and fulfill my Destiny. I am still a work in progress! I discovered my real passion and purpose in life during the third quarter of my life so am especially motivated to help women discover theirs much earlier. It's NEVER too late. I accomplish this in my relationships, through my current job, by coaching clients and during Leadership Development teachings that I offer through The Hutsen Group, LLC. I've come to realize that women everywhere are looking for significance. They want to know that they are making a difference.
Kim: If you had one message to share with women, what would it be?
Remember, "you are fearfully and wonderfully made" and perfect in His sight. 
Kim: What is something on your bucket list that you are yet to do that you consider extraordinary?
Wow! Great question! I have a vision and desire to travel internationally and teach leadership….stay tuned!  
Kim: What is your favorite inspirational quote or bible verse?
Although I have several favorite scriptures, Jeremiah 29:11 and Psalm 46:10 have spoken to me most recently. When we truly learn to be still and rest in the assurance that the One who created and equipped us has already laid out the perfect plan for our lives, we will have the confidence to move forward to live out His plan. 
For I know the plans I have for you, declares the Lord, plans for welfare and not for evil, to give you a future and a hope. Jeremiah 29:11
Be still, and know that I am God. I will be exalted among the nations, I will be exalted in the earth! Psalm 46:10
A perfect note to end on. If you knew Carolyn, you would come to expect her to lift you up with joy, words of life and leave you with greater faith. Thank you for inspiring us, Carolyn. You are truly extraordinary!
How has Carolyn's story impacted you? Let me know by replying to this email!
Choosing to be Extraordinary,
Kim